Thursday, August 16th & Friday, August 17th
My Words Have Power – 2018 Women's Conference
"Matthew 17: 20"
Thursday, August 16th & Friday, August 17th
0
Weeks
0
Days
0
Hours
0
Minutes
0
Seconds
VIP Registration $25
(one per person; includes reserved seating & conference grab bag)
NON-REFUNDABLE
VIP seating is $25 until February 28, 2018.  Thereafter, VIP will be $40 (effective March 1, 2018).
General Registration is FREE
Thursday, August 16th, 2018
11 am – Registration Opens
11:30 am – Prayer
12 pm – Zumba (*wear workout clothes*)
7 pm Evening Service – Hand washing Ceremony 
Friday, August 17th, 2018
8:45 am – Prayer
9 am – 1 pm – Day Workshops TBD
Evening Service White Party Finale
6:45 pm – Prayer
7 pm Evening Service
with Guest Speaker Dr. Jazz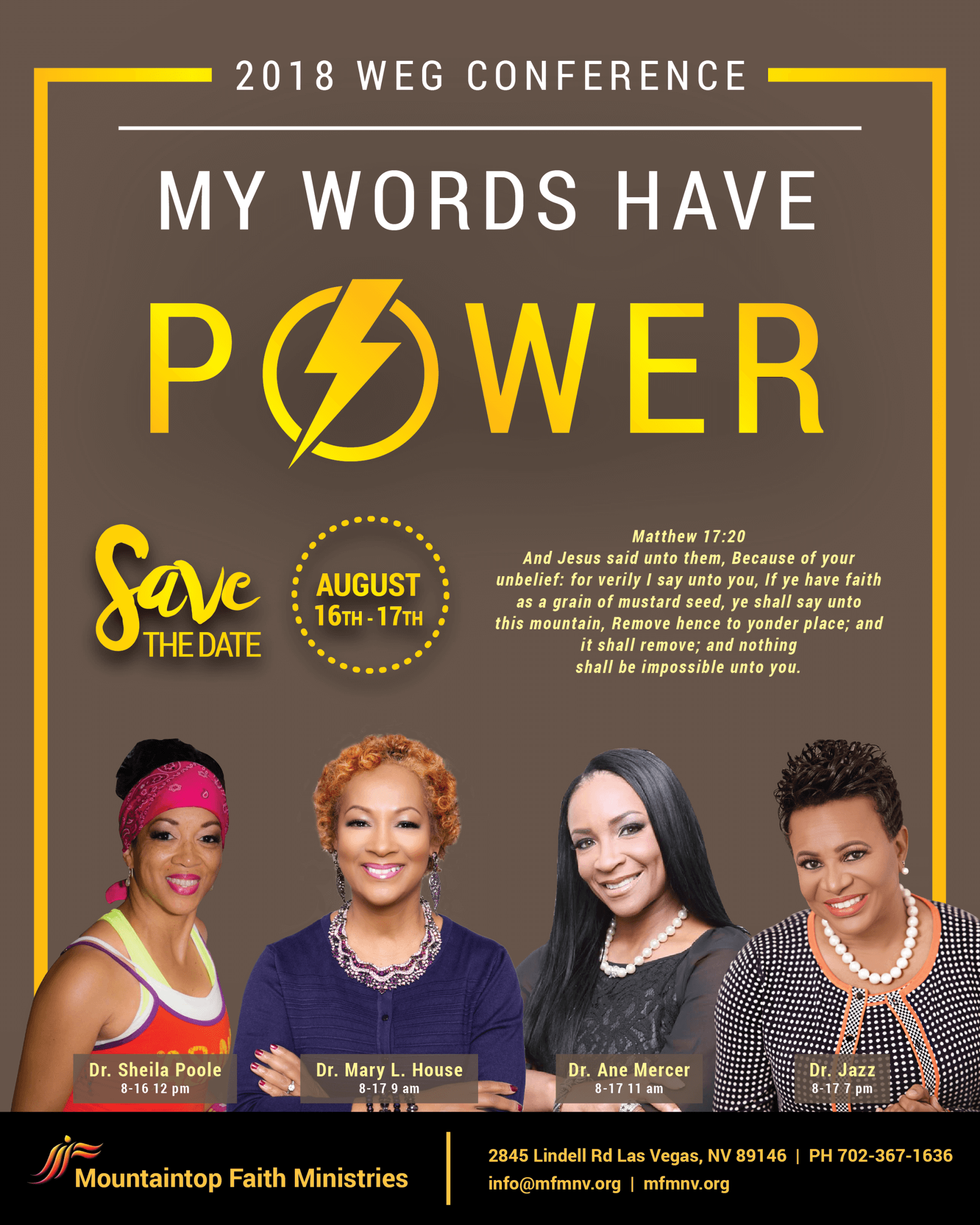 If you do not have an inFellowship account, you will need to sign up for one.  A confirmation email will be sent to you.  If you receive a message that an inFellowship account already exists for your email, select "forgot?" next to the word Password to have a temporary password sent to your email. 
If you are unsure of having an account and/or having trouble with registration, please contact the church office and ask for the Data Department, 702-367-1MFM(636)
0
Weeks
0
Days
0
Hours
0
Minutes
0
Seconds

Register online with link below
or call directly at 702-367-2411
Reference group code: PCIWEG8
Register online with link below.
SLS Hotel Info
Please note the following:
The rate is for single or double occupancy. There is a $30 per person charge for each additional guest.
There is a porterage fee of $7.00 per room to have luggage taken from the car to the room (optional)
This rate is only good for rooms booked by July 16, 2018.
Any cancellations must be made within 72 hours of arrival.
There is a resort fee of $32.00 per day, includes access to the fitness center, access to concierge services, boarding pass print out, local/800 phone call, Wi-Fi in guestroom and complimentary parking.
Order your 2018 Conference T-Shirts
(more information to come at a later date)
visit the link below for previous years shirts and updates for 2018 shirts
0
Weeks
0
Days
0
Hours
0
Minutes
0
Seconds