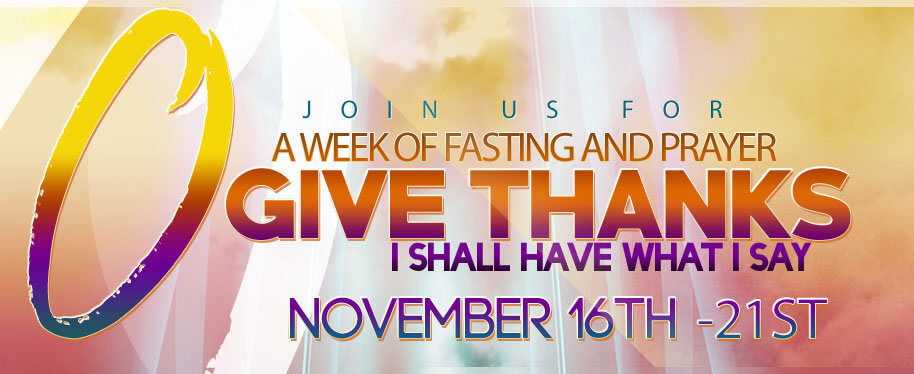 Join us as we unite in a week of Fasting and Prayer November 16th-21st. This is always an amazing time of breakthrough and manifestation and we are looking forward to another amazing week. Anointing Oil is available in the Bookstore.
Our Theme for O Give Thanks 2014 is: I shall have what I say!
Mark 11:23 reads:
For verily I say unto you, That whosoever shall say unto this mountain, Be thou removed, and be thou cast into the sea; and shall not doubt in his heart, but shall believe that those things which he saith shall come to pass; he shall have whatsoever he saith.
 We thank God for the members of Mountaintop Faith Ministries for entrusting us to watch over your souls. It is our prayer that through the Word, praise, worship and fellowship that you are thankful for this assembly that the Lord has gathered together in this region.
 Pastor Clinton & Dr. Mary L. House
 FASTING SCHEDULE
 · The time of fasting will commence at 12:00 midnight and conclude at 4:00p.m beginning Monday concluding on Friday.
· The Daniel fast Monday, Wednesday and Friday (fruit, vegetables, water, juice).
· The Total Fast: Tuesday and Thursday. You should have nothing to eat or drink during fasting hours on Tuesday and Thursday.
· Eat only one meal after 4:00p.m each day of fasting schedule. Feel free to have a healthy snack with juice and water following your meal.
 BUILDING A SPIRIT OF PRAYER IN THE HOME
 Each member of MFM should select 30 minutes that they will dedicate to pray and quiet time in the home each day during the week of O' Give Thanks.
With all members participating, there will be many people praying every hour of the day for strength and development of individual families as well as the Body of Christ.
 VETERANS OF FASTING & PRAYER
 For those of you who are seasoned in fasting and prayer, you may want to fast two or more days continuously. This is fine, just exercise wisdom
 CORPORATE PRAYER
Together, we will lift our voices in prayer for the following:
 Pastor & First Family
Church Family
The Body of Christ
 Children/Youth
The Vision of MFM
Ministry Leaders
City, Country, Nation
Community
President & First Family
Government
Law Enforcement
Firefighters
Mayor
Peace
Freedom
Incarcerated
Sick
Bereaved
Missions
Armed Forces
We are asking each family to adopt one or two other families to carry in prayer during the week of O' Give Thanks. Pray that the Lord bless, keep and shine His face upon them, gives them grace, keeps His face before them, gives them peace, that His name shall be theirs. (Numbers 6:24-27).
HOME/WORK/SCHOOL
At home, work, or school do the following when appropriate:
Read your Bible
Stay prayerful.
Maintain a quiet, spiritual state of mind
Refrain from unnecessary talking.
Encourage someone with words of love or kindness.
Refrain from watching television, reading newspapers, and Internet activities. (During the week of consecration, knowledge of world events can weigh you down).
Plan in-the home activities for the family.
Read the Bible together, as well as interesting fun books
Play Bible games.
Abstain from game consoles, internet gaming, and computer-based games.
Develop a family hobby or individual hobbies.
Write letters or notes to loved ones and friends.
Enjoy the Word on audio and video recordings.
Go to bed at a reasonable hour and get plenty of rest.
May God continue to bless your faithfulness to this Church. Your dedication, commitment and love for God are the key to the success of this ministry. Without a true love for Him, we could not achieve the ultimate goal and purpose of God. Your individual blessings lie in your commitment to Jesus Christ, and our corporate blessings will be accomplished because we love Him and have made the choice to follow His will.
https://mfmnv.org/wp-content/uploads/2016/12/logo-300x92.png
0
0
MFMNV Admin
https://mfmnv.org/wp-content/uploads/2016/12/logo-300x92.png
MFMNV Admin
2014-10-07 16:35:55
2016-12-27 03:52:52
Prepare for O Give Thanks!