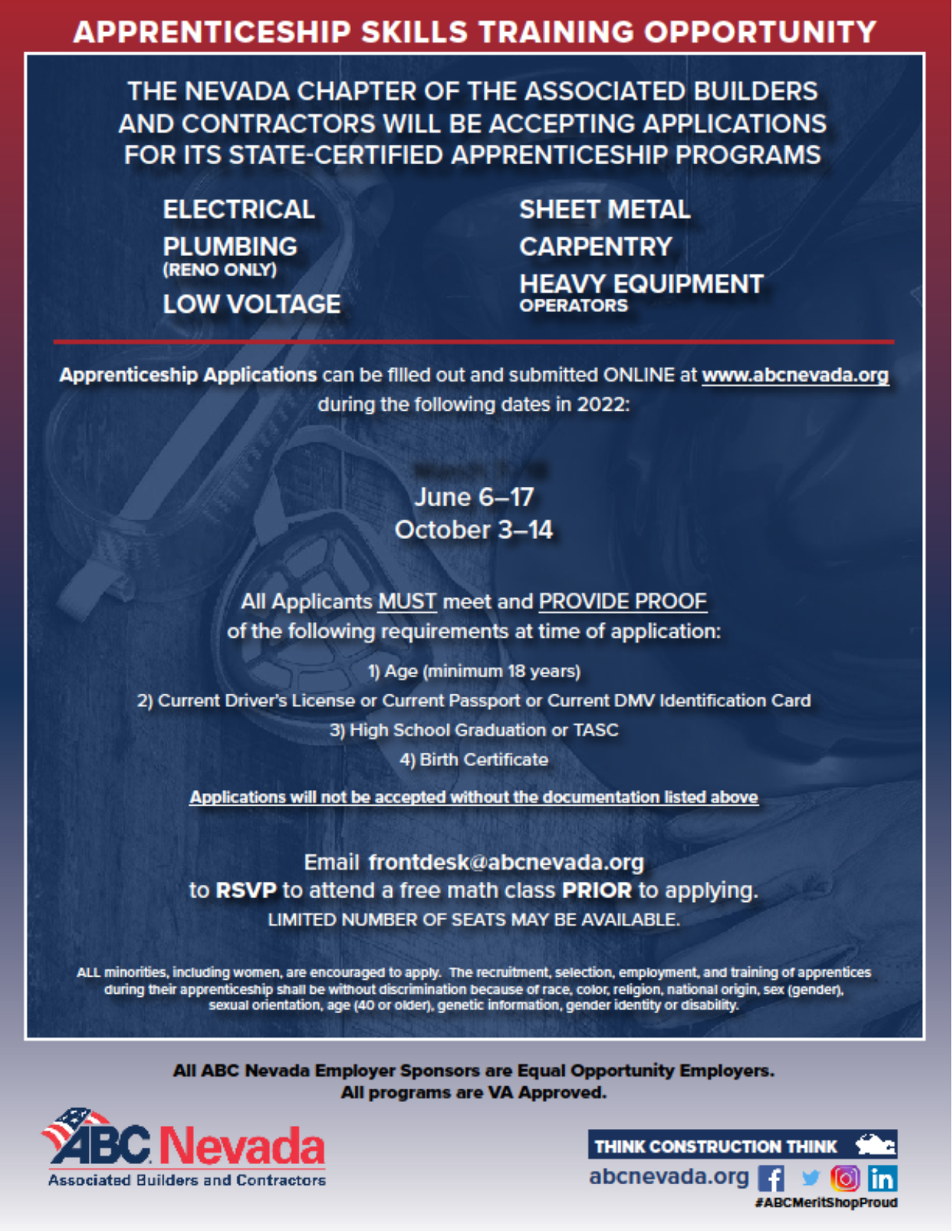 The last apprenticeship application period of the year will be October 3-14, 2022, statewide.
Applications will only be submitted online during those dates.
Applicants MUST provide proof of ID, Birth Certificate & Diploma to apply.
Reno Apprenticeship Program Opportunities
✔️Electrical
✔️Plumbing
Las Vegas Apprenticeship Program Opportunities
✔️Electrical
✔️Operators
✔️Low Voltage
✔️Sheet Metal
✔️Carpentry
FREE Math Class via Zoom on September 26th. If interested please RSVP to frontdesk@abcnevada.org

Delta Air Lines will be interviewing/hiring on 9/21 & 9/22 for Seasonal Ramp Agents.
Information below:
Delta.com/careers
Search Ref# 17070
(complete online assessment, if the assessment is passed, you will be scheduled an appointment for the Hiring Event interview on 9/21 or 9/22)
The Hiring Event will be at the Tuscany Hotel, 255 E. Flamingo, Las Vegas, NV
At the hiring event, If you pass the interview, you be hired and receive a "Conditional Job Offer". You will proceed through the process with a physical ability test and drug screen the same day. You must complete and pass a background application/check prior to receiving a hiring report date for badging and training.
NO WALK INS – the application, assessment, and appointment scheduling must be completed on line
Bring two forms of ID e.g. driver's license, passport, social security card. Most importantly, names must be an exact match on both forms of ID.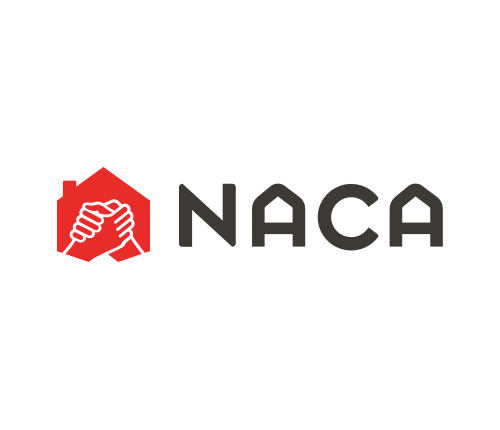 COMPENSATION: $60,000 to $100,000+ (including substantial production incentives)
FLSA: Non-Exempt
LOCATION: NACA Offices Nationwide
CONTACT: jobs@naca.com or 617-250-6222 ext. 1221
BENEFITS: Comprehensive package: single/family health, vision, dental, 401(k) and more
WEBSITE: www.naca.com
Job Responsibilities:
A NACA Counselor manages a pipeline of Member files assigned to them and provides comprehensive, individual housing and financial management counseling services in a local NACA office or by video conferencing.
The NACA Counselor helps Members overcome the roadblocks preventing them from qualifying for a mortgage loan and purchasing a home. They ensure effective and timely communication, explain requirements, request necessary documents, assess readiness for homeownership, and determine an affordable mortgage payment considering each Member's particular circumstances and goals. The NACA Counselor also works with Members to address and improve their financial management skills.  In addition, NACA Counselors need to have general knowledge and understanding of NACA's counseling services for homeowners and renters.
The NACA Counselor utilizes NACA's state of the art content management software called NACA-Lynx which enables paperless housing counseling and mortgage processing. The NACA Counselor works with Members to be qualified for the NACA Mortgage or other mortgages based on NACA's comprehensive Policies and Procedures ("NACA Qualification"). This can be achieved quickly for some Members, while it may take several months or longer for others. The NACA Counselor qualifies the Member for the NACA Mortgage using NACA's character based underwriting criteria and compensating factors. A NACA Mortgage Specialist reviews the NACA Counselor's assessment to confirm if the Member should be NACA Qualified or requires additional counseling or documentation.
A NACA Counselor must maintain a professional demeanor and always provide outstanding customer services. A NACA Counselor educates the Member on their next steps at each stage of the process and utilizes problem solving skills and financial management guidance to help Members achieve homeownership. They must be able to work independently with Members. A NACA Counselor must manage their time effectively to provide accurate comprehensive counseling sessions within specified time limits.
A NACA Counselor provides comprehensive housing counseling as well as the mortgage related activities described below, if licensed.  The NACA Counselor's daily responsibilities include working with Members on the following:
Provide a clear direction for a path towards their homeownership goals and improve their financial management skills.
Work with NACA's Client Management System (CMS), NACA-Lynx, to accurately complete documentation and data entry for efficient and paperless qualification.
Write narratives and identify action items to document next steps after each counseling session and interaction with Members as required.
Review payment history, liabilities, assets, and other criteria to determine readiness of home ownership.
Develop a realistic monthly budget and address budget issues through comprehensive financial counseling.
Define a plan to save the minimum required funds to make the home purchase.
Determine a maximum affordable mortgage payment and define a path to achieve Member's homeownership purchase price/goal.
Calculate a monthly cash flow surplus to establish a Member's long term affordable mortgage payment, which may be higher than their current rent.
Examine and process documents and address issues as needed.
Address NACA Qualification conditions (if any) within 48 hours.
Provide information on alternative mortgage products and options for the Member to feel comfortable with their mortgage decision.
Other Activities and Requirements:
Present Home Buyer Workshops.
Assist in outreach activities focused on low and moderate income communities, churches, job sites, events, etc.
Participate in regular trainings.
Participate in NACA events and campaigns.
Other duties as assigned.
Mortgage Origination & Processing (Licensed NACA Counselor):
In addition to providing the above counseling, a Licensed NACA Counselor assists the Member in securing a NACA mortgage by providing mortgage origination and processing services regarding a mortgage application for a specific property, including the following:
Assist Members during their housing search to purchase within their affordability and eligibility.
Maintain communication during the Member's housing search to maintain their NACA Qualification.
Assist and educate Members on accessing their property qualification documents.
Review and process Member's application for NACA Credit Access to ensure the Member and the property adhere to NACA's criteria.
Submit the Member's mortgage application.
Address lender conditions.
Assist the Member through closing to facilitate the mortgage process where appropriate.
Click the link below for more information and to apply