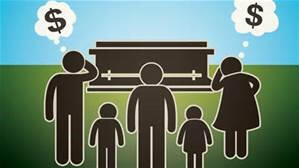 SHOULD YOU PREPAY YOUR OWN FUNERAL EXPENSES? Be Careful: Read the fine print
It sounds great in theory: Pre-plan and prepay your funeral expenses so your children and heirs won't have to make expensive and difficult decisions while grieving. But not all pre-paid funeral contracts deliver on their promises as funeral homes go out of business, change hands, or raid the money consumers thought was safely invested in trust funds.
Comparison shop. The average cost of a funeral is $6,500, according to the National Funeral Directors Association—and that doesn't include cemetery costs and extras like flowers, obituary notices, and limousines that can quickly boost the price to well over $10,000. But a full 79 percent of seniors report they have not done any comparison shopping for burial or funerals, an AARP study found.   Consumers received some protection from unscrupulous funeral providers with the creation of the Funeral Rule in 1984. This rule, administered by the Federal Trade Commission (FTC), requires funeral providers to give consumers accurate, itemized price information and other specific disclosures about funeral goods and services. The Funeral Rule requires funeral directors to provide price information over the phone to any caller who asks for it.
Unfortunately, the Funeral Rule does not apply to many of the features of pre-need contracts, which are governed solely by state law, and protections vary widely from state to state.
Following are some questions that the FTC recommends asking before signing up for a pre-need funeral arrangement. The questions are from the FTC's booklet "Shopping for Funeral Services."  See also the FTC's Shopping for Funeral Services page.
What happens to the money you've prepaid? States have different requirements for handling funds paid for prearranged funeral services.
What happens to the interest income on money that is prepaid and put into a trust account?
Are you protected if the firm you dealt with goes out of business?
Can you cancel the contract and get a full refund if you change your mind?
What happens if you move to a different area or die while away from home? Some prepaid funeral plans can be transferred, but often at an added cost.
These pitfalls can be avoided, of course, by making decisions about your arrangements in advance, but not paying for them in advance. Be sure to tell your family about the plans you've made; let them know where the documents are filed. If your family isn't aware that you've made plans, your wishes may not be carried out. It may also be best for you to consult an attorney on the best way to ensure that your wishes are followed.
https://mfmnv.org/wp-content/uploads/2016/07/funeral.jpg
168
299
MFMNV Admin
https://mfmnv.org/wp-content/uploads/2016/12/logo-300x92.png
MFMNV Admin
2016-07-28 12:33:30
2016-12-27 02:41:54
SHOULD YOU PREPAY YOUR OWN FUNERAL EXPENSES? Be Careful: Read the fine print