Run This Race at Your Pace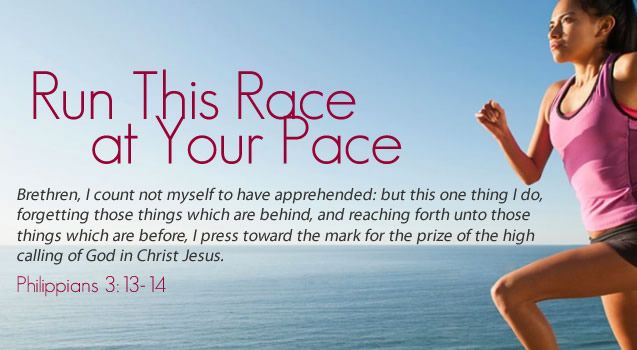 Brethren, I count not myself to have apprehended: but this one thing I do, forgetting those things which are behind, and reaching forth unto those things which are before, I press toward the mark for the prize of the high calling of God in Christ Jesus.
Philippians 3:13-14
 Have you ever felt pressured to keep up with someone else? We are all called and graced to run our own race. God knew what it would take for us as individuals to complete the destiny and purpose that He placed inside of us. No two of us are alike.
I often marvel at the pressure we place on ourselves to compete with the race or journey of another person. That is an impossible goal to fulfill. There is an individual mark and prize that we are designed to gravitate towards. Your prize is for your own race. God has graced you to complete your own course.
Energy and focus are like currency. You have to spend them on what matters. Knowing what God has called you to do is what matters most. It may not be a seemingly "important" assignment, but it is important to God. Run your own race at your pace. Spend your currency pressing toward your own mark. God has anointed you to succeed. If you have found yourself, weary or burnt out, I pray that God would put some zeal back into your heart.
I decree renewed strength for your journey, and a fresh measure of grace to run your race.
Pastor House
https://mfmnv.org/wp-content/uploads/2016/12/logo-300x92.png
0
0
MFMNV Admin
https://mfmnv.org/wp-content/uploads/2016/12/logo-300x92.png
MFMNV Admin
2014-04-28 19:17:37
2017-12-12 11:41:56
Run This Race at Your Pace