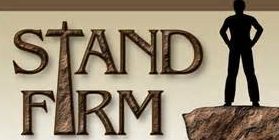 Ephesians 6:14(NLT)
14 Stand your ground, putting on the belt of truth and the body armor of God's righteousness.
Always between what God has promised, and the manifestation of that, is the time when the enemy comes to discourage and discredit what God has spoken. It is his tactic to move us off of, or away from the very ground that we have been watering with seeds of faith and tears. It is when that promise is taking longer than expected that we have to be even more vigilant, and stand our ground.
How do you stand your ground? Faith comes by hearing and one way to stand your ground is to keep confessing and professing what it is you are standing for. This ground is germinating my harvest. This ground is going to deliver_____ fill in your own blanks. Refuse to be talked out of what God has told you is yours. This is my promise!
You stand your ground by practicing 1 Corinthians 15:58 being steadfast and unmovable doing God's work (paraphrase). You are working toward something, this is your faith in action. So put your confidence in the promises of God and STAND YOUR GROUND!
Pastor Clinton House
https://mfmnv.org/wp-content/uploads/2016/07/stand-firm-e1469755912526.jpg
140
279
MFMNV Admin
https://mfmnv.org/wp-content/uploads/2016/12/logo-300x92.png
MFMNV Admin
2016-07-28 12:16:10
2017-12-12 13:32:12
Stand Your Ground