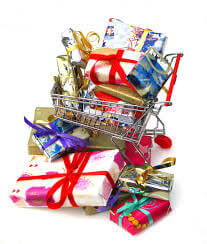 With all the Black Friday sales and Cyber Monday hype dying down, we now have a chance to let the Thanksgiving dinners digest while we catch our breath.  But Christmas is coming fast!  If you haven't felt the pressure yet, it's coming soon.
The not-so-subtle hints and wish lists, if you're not careful, can cause you to spend more than you planned and put you in a bad spot, financially, going into next year.
In case you didn't know, I want to let you in on a little secret.  It is OK with Jesus to have Christmas on a budget!  Trust me, He is good with it.  I have learned that budgeting Christmas spending is the best way to maintain order over the finances during these spend-happy holidays.  You can start by deciding how much money you are willing to spend on Christmas.  Notice I didn't say gift-giving or traveling.  All Christmas related activities that are out of the normal day-to-days spending practices are lumped together.  Whether you are buying gifts, traveling, paying for special dinners, all Christmas spending could come out of the allocated money.  And when there is no more money…there is no more Christmas spending.  Period.  That is when you resort to giving the gift of love!
Christmas is the most celebrated holiday of the year.  You should enjoy it.  But you don't have to celebrate until you're broke! It's O.K. to dial it back some, cut the wish-lists short, and budget your Christmas spending.  Jesus won't be mad at you (although some of your family might call you cheap!).  Trying to please people is a losing endeavor, so why not take a different approach to the holiday spending this year?  Put your Christmas on a budget and hold fast to the spending limit you set.  You don't want to still be paying for December choices in January.  That's like living life in the rear view mirror.   Finish strong and go into 2017 with some positive momentum.  A major part of keeping your finances under control is developing disciplined spending habits.  It may be hard now, but you will be better for it in the future.  Or at least that is what the writer of Hebrews tells us in Hebrews 12:11. So enjoy your Christmas, but don't go crazy!  God bless and we'll see you in 2017.
https://mfmnv.org/wp-content/uploads/2016/12/007e52ee-6f03-40d0-8177-24f0054306431.jpg
244
207
Andrea Solid
https://mfmnv.org/wp-content/uploads/2016/12/logo-300x92.png
Andrea Solid
2016-12-01 12:07:27
2017-12-12 12:42:03
Christmas Spending