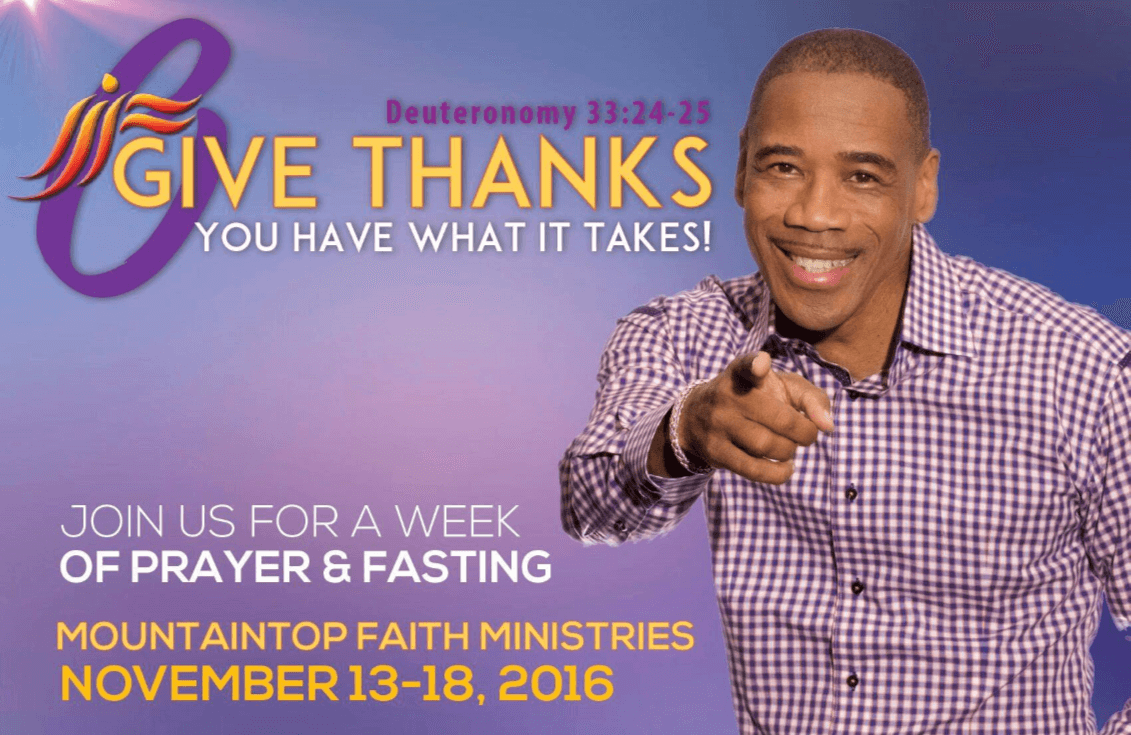 BUILDING A SPIRIT OF PRAYER IN THE HOME
During the week of O Give Thanks, each member of MFM should select 30 minutes that they will dedicate to prayer and quiet time in the home.
With all members participating, there will be many people praying every hour of the day for strength and development of individual families as well as the Body of Christ.
VETERANS OF FASTING & PRAYER
For those of you who are seasoned in fasting and prayer, you may want to fast two or more days  continuously.   This is fine, just exercise wisdom
CORPORATE PRAYER
Together, we will lift our voices in prayer for the following:
Pastor & First Family Church               Family     The Body of Christ     Children/Youth The Vision of MFM
Ministry Leaders   City, Country, Nation     Community   President & First Family       Government
Law Enforcement   Firefighters           Mayor    Peace      Freedom                 Incarcerated          Sick
Bereaved                Missions                 Armed Forces        Veterans
We are asking each family to adopt one or two other families to carry in prayer during the week of O' Give Thanks. Pray that the Lord bless, keep and shine His face upon them, gives them grace, keeps His face before them, gives them peace, that His name shall be theirs. (Numbers 6:24-27).
1) THE NORMAL FAST: Luke 4:2 (To abstain from eating)
2) THE ABSOLUTE FAST: Acts 9:9 (To abstain from eating & drinking)
3) THE PARTIAL FAST: Daniel 10:3 (To abstain from certain foods)
Benefits to Fasting
Develops humility
Strengthens the inner man
Looses the bands of wickedness
Releases heavy burdens and freedom from oppression
Manifestation of God's power
Brings the church family into greater unity and growth
Opens the door for you to receive God's anointing and fresh revelation
Increases faith
Gives you the power to gain victory over the sins of the flesh
Breaks addictions (food, alcohol, nicotine, caffeine, gambling, etc.)
Prayer
Prayer is an important part of your Spiritual growth. It is two-way communication with God. We can talk to the Lord any time and any place. In prayer, God reveals His plans and   purpose for our lives. It is in prayer where we receive  direction, spiritual warfare strategies, and wisdom.
Types of Prayer
Personal Prayer: Taking your petitions and supplications before God.
Be careful with nothing, but in everything by prayer and  supplications with thanksgiving let your requests be known unto God. Philippians 4:6
Intercessory: Praying on behalf of others as the Spirit of God leads.
Corporate: Praying together collectively as a church for the Body of Christ, the nation and it's leaders, kingdom advancement.
If my people, which are called by my name, shall humble themselves, and pray, and seek my face, and turn from their wicked ways; then will I hear from heaven, and will forgive their sin, and will heal their land. II Chronicles 7:14
How to Pray
Learning to pray begins by making the choice to be alone with God. You must set aside time each day to meet with Him. Find a place where you won't be distracted or interrupted.
O God, thou are my God; early will I seek thee, my flesh longeth for thee in a dry and thirsty land, where no water is; Psalm 63:1
Home /Work/  School
At home, work, or school do the following when  appropriate:
Read your Bible
Stay prayerful.
Maintain a quiet, spiritual state of mind
Refrain from unnecessary talking.
Encourage someone with words of love or kindness.
Refrain from watching television, reading newspapers, and Internet activities. (During the week of consecration, knowledge of world events can weigh you down).
Plan in-the-home activities for the family.
Read the Bible together, as well as interesting fun books
Play Bible games.
Abstain from game consoles, internet gaming, and computer-based games.
Develop a family hobby or individual hobbies.
Write letters or notes to loved ones and friends.
Enjoy the Word on audio and video recordings.
Go to bed at a reasonable hour and get plenty of rest.
May God continue to bless your faithfulness to this Church. Your dedication, commitment, and love for God are the key to the success of this ministry. Without a true love for Him, we could not achieve the ultimate goal and purpose of God. Your individual blessings lie in your commitment to Jesus Christ, and our corporate blessings will be accomplished because we love Him and have made the choice to follow His will.
FASTING SCHEDULE
The time of fasting will commence Sunday at 12:00 midnight and conclude at 4:00p.m.on Friday.
The Daniel (Partial)  Fast Monday, Wednesday and Friday (fruit, vegetables, water, juice).
The Total Fast: Tuesday and Thursday. You should have nothing to eat or drink during fasting hours on Tuesday and Thursday.
Eat only one meal after 4:00p.m.each day of fasting    schedule. Feel free to have a healthy snack with juice and water following your meal. 
Fasting Schedule 2016
11-13 through 11-18
Fast begins when you go to bed Sunday night  (Mon 12am) Nov 13th and concludes Friday, Nov 18th at 4pm.  On Monday, Wednesday and Friday you should only have water, fruit & vegetables if you are doing Daniel Fast after 4pm you may have a light meal and a snack before bed. On Tuesday and    Thursday (Total Fast) you should have nothing to eat or drink until 4pm. After 4pm you may have a light meal and a snack before bed.
https://mfmnv.org/wp-content/uploads/2016/10/o-give-thanks-2016-schedule.png
735
1131
Andrea Solid
https://mfmnv.org/wp-content/uploads/2016/12/logo-300x92.png
Andrea Solid
2016-11-09 19:43:21
2018-02-12 12:02:46
O Give Thanks 2016