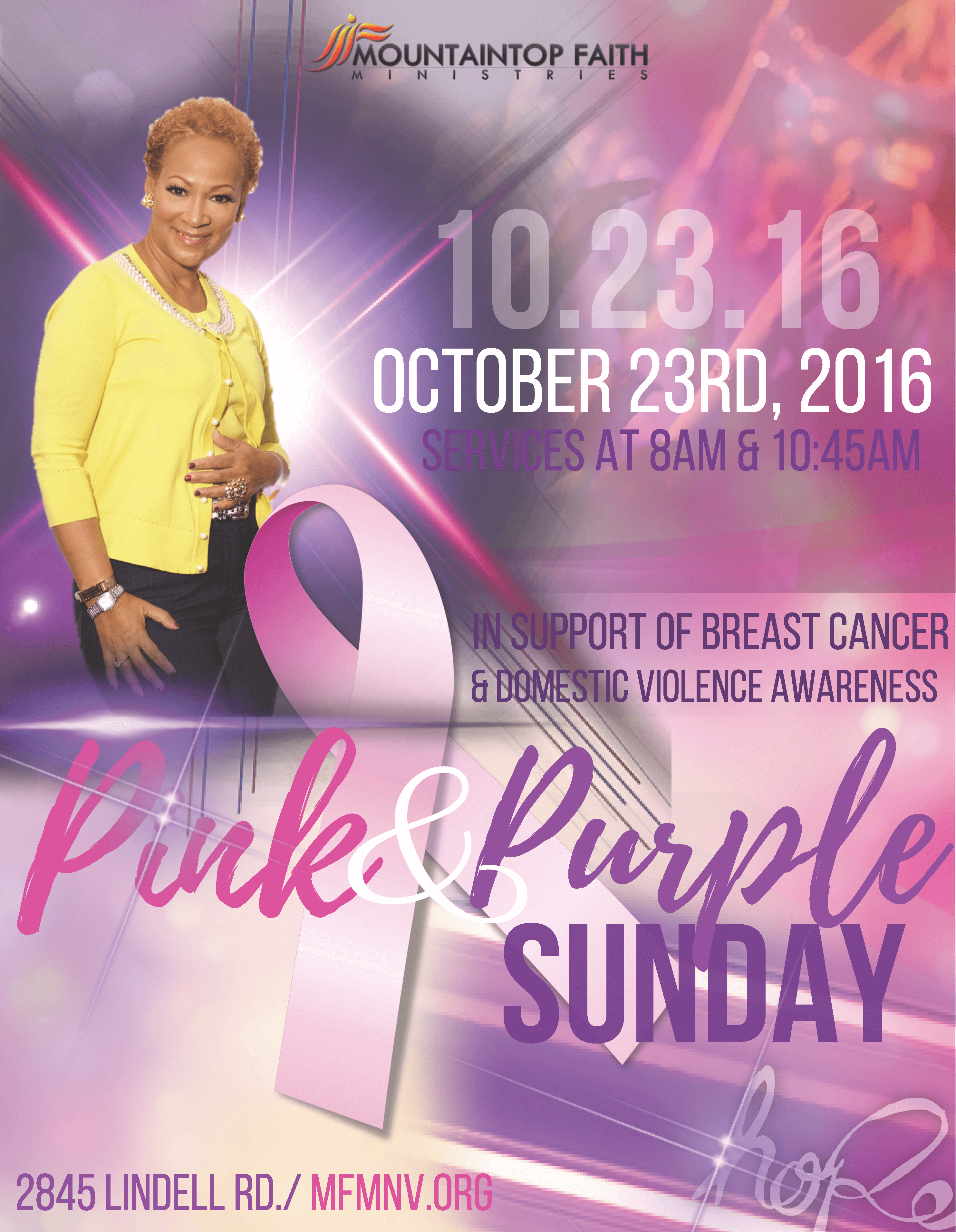 On October 23rd, Mountaintop Faith Ministries First Aid Ministry in conjunction with CHR, Inc., (Caring, Helping and Restoring Lives) hosted their annual Pink & Purple Sunday.  The church arrayed itself in pink and/or purple to bring awareness to breast cancer and domestic violence.
First Lady Dr. Mary L. House, who is also the CEO/President of CHR, Inc. has a passion for domestic violence awareness.  She has shared her testimony of being a witness to domestic violence in her parents home; thus, bringing together the Pink & Purple Sunday to the church. During both the 8:00 am and 10:45 am services, she shared the startling statistics of both issues.
Breast Cancer is the most common cancer diagnosed in women in the United States, other than skin cancer.  It is the second leading cause of cancer death in women, after lung cancer.  There are over 3.1 million breast cancer survivors in the United States. Nevada Statistics show that breast cancer is the most commonly diagnosed cancer among women in Nevada and is the 2nd leading cancer killer among women in the State.  It is estimated that 2,000 women in Nevada will be diagnosed with breast cancer in 2016 and 380 women in Nevada will die of the disease.
What can you do? Get screened and talk to your doctor about which screening test are right for you if you are at a higher risk. Have a mammogram every year starting at age 40 if you are at average risk. Have a clinical breast exam at least every 3 years starting at age 20, and every year starting at age 40. You can sign up for your screening reminder at www.komen.org/reminder.
Domestic violence is a pattern of violent and coercive behavior used by one partner in a relationship to control another. Every 9 seconds in the USA a woman is assaulted or beaten. Studies suggest that up to 10 million children witness some form of domestic violence annually. An estimated 29% of African American females are victimized by intimate partner violence in their lifetime. Women in Nevada are 65% more likely to be shot and killed by intimate partners than women nationwide. Nevada has the 5th highest rate of domestic violence gun murder of any state in the country. Statistics show that Black women typically comprise about 70% of black congregations. Religious convictions and a fear of shame or rejection from the church may contribute to their remaining in abusive relationships.
Dr. House also thanked her husband, Pastor Clinton House, for allowing her the platform to bring both issues to the forefront of the church.  It is their desire that the Pink & Purple Sunday will be echoed throughout churches across the country. If you would like to become a volunteer, attend the domestic violence workshops or make a contribution, go to www.chrinc.net.
Statistics provided by: www.doj.state.or.us; www.huffingtonpost.com; www.ncadv.org; www.safenest.org; www.komennevada.org
https://mfmnv.org/wp-content/uploads/2016/09/10.23.16-2.png
3824
2967
Andrea Solid
https://mfmnv.org/wp-content/uploads/2016/12/logo-300x92.png
Andrea Solid
2016-11-03 11:42:52
2021-01-20 13:59:24
Pink & Purple Sunday