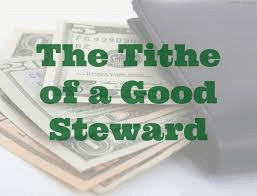 To their error, some believe the two terms, tithers and stewards are synonymous.  I have heard people use these two terms interchangeably, and to someone who is not familiar with the two, it can be pretty confusing.   But in fact the two are quite different.  Good stewards are tithers, but tithers are not necessarily good stewards.  Let me explain.
The word "tithe" literally means a tenth.  It is one-tenth, or 10%, of what you earn.  In biblical times, the economic system was more of a barter or trading system and the money was not always coins or money as we know it today.  Sometimes produce such as grain and wheat or even livestock, like goats and lambs, were used as a medium of exchange, but in our economic system and market place we use currency.  Please, don't try to pay your debts with a goat; it might not go well.  But anyways, the tithe is a biblical concept that has its origin before the law was every given by God to Moses (Gen. 14:20, Gen. 25:22 vs. Ex. 20-31).  Indeed, Christ died to redeem us from our sins which is made evident to us by the law (Rom. 4:15, Rom. 7:8-11), but since tithing is not a law, the death, burial and resurrection of Jesus Christ does not nullify or sidestep the principle of tithing.  In fact, if anything, it re-enforces the notion because Christ is the first fruit (tithes) that was sacrificed to purify the church (Rom. 11:16, 1 Cor. 15:23).  So as New Testament believes we are to give our tithes to the church as directed (Mal. 3:10, Matt. 23:23).  Our tithe is not ours!  It is God's (Mal. 3:8) and we are to return to Him what is rightfully His (Mal. 3:10-12)!
Now, a steward is an official appointed to supervise arrangements or keep order.  In other words, a steward is an overseer or a manager of someone else's affairs.  God loves stewards because a steward they own nothing and all they have belong to their master.  Did you know Adam was the first steward mentioned in the bible?  If you don't believe me, just look at his job description (Genesis 2:5 & 2:15).  And we being descendants of Adam have the same charge as stewards (Matt. 25:21).
So is it better to be a tither or a steward?  Consider the following.  A tither is blessed because they do not rob God; they give God His 10%. But, what about the other 90%?  What happens to it?  Is it wasted?  One can be a tither and still live paycheck to paycheck! But a good steward watches over all their entrusted money with great care and spends it wisely.  In essence, a good steward gives it all to God; they give God 100% of it!  No, a good steward does not give 100% of their money to the church, although a good steward does give tithes and offerings.  The 90% that remains in the good steward's possession is not wasted, but it is used to please God and to live a life that is pleasing to God.  What does this look like practically?  A good steward saves (Prov. 21:20), stays away from debt (Prov. 22:7), and gives to the poor (Prov. 19:17).  Good stewards also take care of their responsibilities (1 Tim. 5:8); prepare for the future (Prov. 13:22, 1 Cor. 16:2); spend wisely (Luke 14:28-30); and understand investing (Ecc. 11).  I don't know about you, but I aim to be a good steward; not just a tither.
https://mfmnv.org/wp-content/uploads/2016/10/tithers.png
196
257
Andrea Solid
https://mfmnv.org/wp-content/uploads/2016/12/logo-300x92.png
Andrea Solid
2016-10-13 11:09:02
2016-12-27 02:32:21
Tithers vs. Stewards