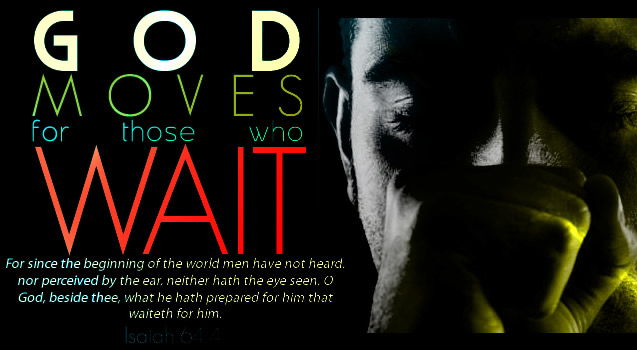 God moves, or works on behalf of those that wait. He is the master architect and we are the creation. Our lives and the things that concern us are not left to chance. Oh no. God has a plan, we are part of that plan, and that plan is always working. The Master's mind is the mastermind behind all of this! God's thoughts or plans and the execution of those plans are not always privy to us. I will submit to you again, God will often require faith and obedience with limited information to us.
For my thoughts are not your thoughts, neither are your ways my ways, saith the Lord.9 For as the heavens are higher than the earth, so are my ways higher than your ways, and my thoughts than your thoughts Isaiah 55:8-9.
 God will bring us to tight places and then tell us to wait. He will cause us to wait just to show us how incredible His plan is. Had we moved on our own behalf the results would not be the same. God loves us enough to make us wait.
Today God just wants you to know that He isn't trying to frustrate your life.  He rather is looking to deliver, deposit, and exceed your expectations. While you are waiting IN God, He just wants you to know He is moving on your behalf. Get your hopes back up, God is up to something.
– Pastor House
https://mfmnv.org/wp-content/uploads/2016/12/logo-300x92.png
0
0
MFMNV Admin
https://mfmnv.org/wp-content/uploads/2016/12/logo-300x92.png
MFMNV Admin
2014-06-26 13:01:01
2017-12-12 12:55:16
God Moves for Those Who Wait