SPRING CLASS IS FULL; STAY TUNED FOR FALL CLASSES
PARENTS COMPLETE THIS FORM ON BEHALF OF YOUR DAUGHTER. IF YOUR DAUGHTER IS NOT LISTED UNDER YOUR HOUSEHOLD, PLEASE CONTACT THE CHURCH DATA OFFICE 702-367-1636.
https://mfm.infellowship.com/Forms/415325
This is a young women's (12 years old to 18 years old) small group that has service on Wednesdays in Module 6. The staff of D.O.D are role models for the youth maintaining a godly character. D.O.D provides spiritual and creative curriculum to keep youth excited and involved in REAL discussions about our Christian walk.
*Must have signed waiver to attend*
Through the teachings of "Every Young Woman's Battle", we will discuss sexual purity from emotional, mental, spiritual, and physical perspectives, teaching our young ladies to guard their minds, hearts, and bodies in this sex-saturated world. Our goal is to present a credible, helpful, Christian perspective on the images our ladies are exposed to every day.
The spring session will run for 10 weeks starting March 6th at 6pm until May 15th. We will not meet during the week of spring break (April 17th)
If you have any questions, please email Minister Candace House (candace@mfmnv.org) or Sister Patrice Burnett (pburnett@mfmnv.org).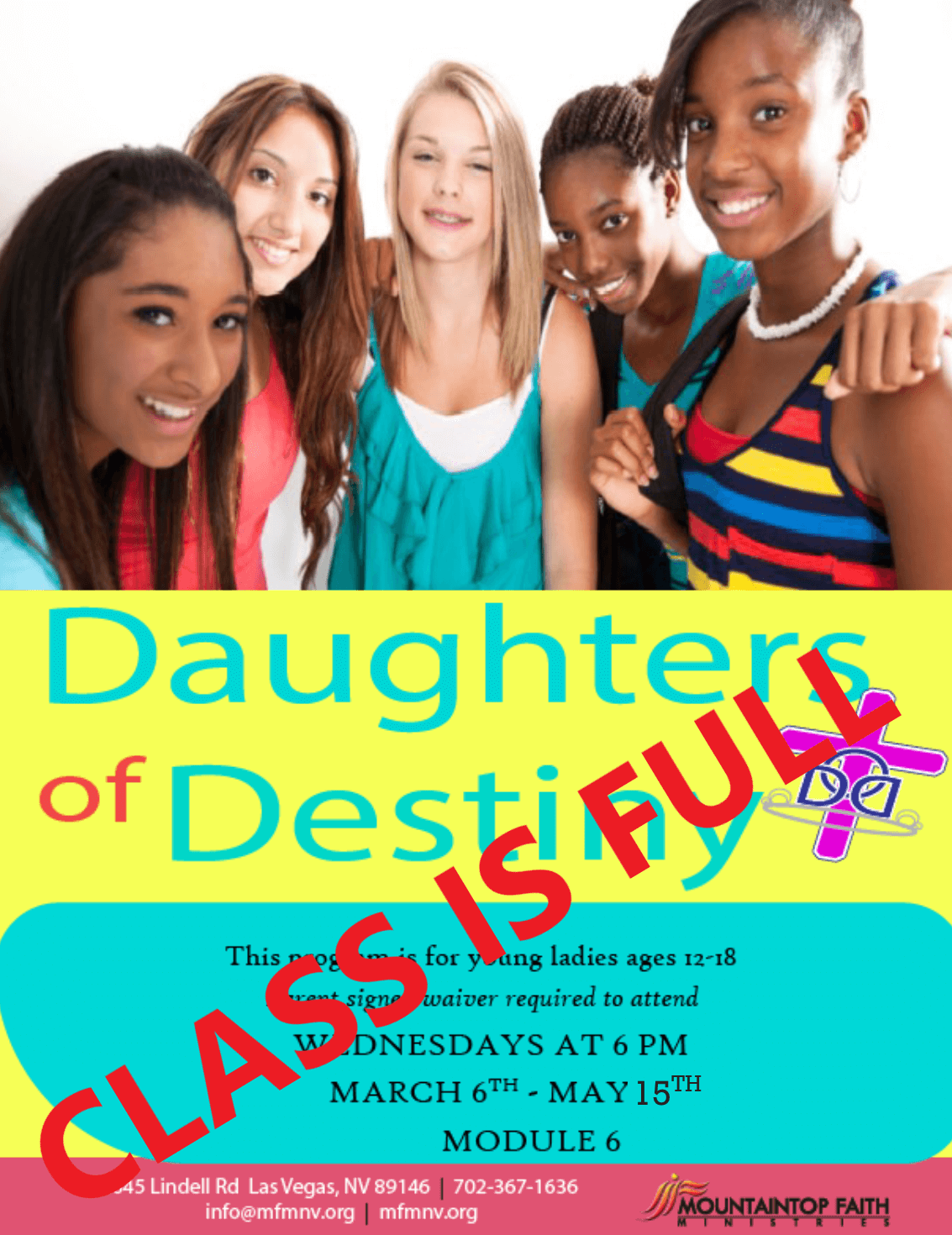 https://mfmnv.org/wp-content/uploads/2019/02/DOD-3-15-19-1.png
1470
1133
Supportadmin
https://mfmnv.org/wp-content/uploads/2016/12/logo-300x92.png
Supportadmin
2019-02-26 14:09:52
2019-06-30 11:53:02
Daughters of Destiny